Health and Social Care Professionals attend Acquired Brain Injury Conference
On Wednesday 19th June we hosted a complimentary Acquired Brain Injury Conference at Mercure Norton Grange Hotel in Rochdale. Over 80 care professionals attended the day, where they were provided with practical information and guidance on exploring effective ways for people with an Acquired Brain Injury to access community-based services.
The day was full of empowering talks and inspirational people, working together to share ideas and best practice. Our very own Jim Weir ABI Advisor set the scene talking about "accessing community-based services", followed by Tony Ward Registered Dietitian, sharing positive case studies regarding "Good Nutrition". Dr Richard Clarke Consultant Neuropsychologist continued the morning session with his presentation "Managing challenging behaviour in community settings". The highlight of the morning session was Kevin from Supported Living presenting in his own unique way, for the very first time about his personal journey to independence. Amanda and Steph from Rochdale Council's Work, Health and Skills team bought the morning session to a close with a discussion about work opportunities Rochdale.
The afternoon session started with Murdo Mason Occupational Therapist presenting "Skills development on a pathway to independence". The Parents from Byron Lodge followed on by sharing their very personal reflective journeys.  The penultimate talk was presented by Karen Royle Chartered Occupational Psychologist, discussing Vocational rehabilitation. Ryan Brummit Divisional Managing Director brought the day to a close by introducing Boston House our exciting new service which will be opening in Oldham in January 2020.
This was an exceptional conference which brought together advocates, parents, care professionals, staff, clinicians and people we support. The day highlighted key areas on how we can work together effectively to support people with an Acquired Brain Injury.
We would like to thank all our speakers for their informative contributions and staff and the people we support from both our Oldham Residential and Supported Living services, who helped to make the day such a success.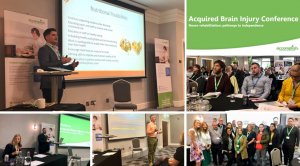 Please click here to download the slides from day
Share this news