Finalists at the Skills for Care Accolades Awards 2020 Announced
We are delighted to announce our learning and development team has been named as a finalist in the Skills for Care Accolades Awards 2020.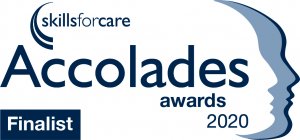 Accomplish Group, have been shortlisted in the Most Innovative Endorsed Learning Provider in the prestigious Skills for Care Accolades Awards 2020. The awards reward social care organisations who invest in their workforce so they can offer high quality services.
Accomplish supports people with Autism, Mental Health Needs, Learning Disabilities and Acquired Brain Injuries in services across England and Wales. The group's 10-strong Learning and Development team will find out if they have won the national award at the Accolades ceremony in London on Wednesday 22nd January 2020, which will be hosted by TV dance legend Anton du Beke.
To make the final, Accomplish had to demonstrate their expertise in recruiting the right people with strong core caring values and how they then develop their staff's skills and knowledge to meet the needs of the people they support and can demonstrate the way they developed strong leaders and managers in their services.
The team were nominated for their innovative and technological approaches to providing training to services located in various locations across England and Wales, cutting down on travel and time away from services.
Kelly Pirotte, Head of Learning and Development at Accomplish, said: "We are incredibly proud to have been shortlisted as finalists in these extremely prestigious awards – they are like the Oscars in the learning and development world. We couldn't be more thrilled.
"Our approach to training is to use technology to help people access the learning and development they need to increase their skills, and therefore provide the best care and support for the people who use our services – but while also cutting down on the time they have to travel and be away from services.
"The process to even be shortlisted was extremely rigorous and it's an honour to see the hard work of the team recognised in this way. Everyone is very much looking forward to the awards ceremony."
Accomplish Chief Executive Mel Ramsey said: "We are extremely proud of our training team and their dedication to ensuring the very best learning and development opportunities are delivered to our staff teams across the country.
"Their focus and commitment to delivering learning, as well as their development of creative approaches to training, not only benefits the people we support, but the entire staff team too. We wish them the best of luck at the awards!"
Share this news