Finalists for the Great British Care Awards Announced
Members of our Cheshire-based supported living team have been named as finalists for a prestigious award at the Great British Care Awards – North West.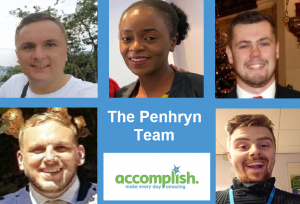 The group, who work within our Cheshire and Greater Manchester Supported Living service, have been recognised by the Great British Care Awards for the significant positive impact they have had on the life of a person they help support and have been shortlisted in The Housing With Care Award.
Our Supported living services around the North West and across England and Wales, support people with autism, mental health needs, learning disabilities and acquired brain injuries to live as independently as possible.
One person who uses these services in Cheshire is Stephen*, who has autism and moved into one of our supported living service in 2018 after spending 12 years in residential settings.
Throughout his life, Stephen had experienced a number of challenges which limited his quality of life and limited the kinds of activities he could enjoy. However, since moving to his new home the team have worked extremely hard to support him to build his confidence and help him achieve fantastic outcomes.
Thanks to his positive relationship with the staff team, Stephen has been enjoying a huge range of experiences both locally and further afield, as well as making more friends and recently enjoyed a trip abroad for the first time on holiday.
Jenny Payne of Accomplish Group said: "Being named as a finalist in these fantastic awards is testament to the hard work and determination of the Cheshire and Greater Manchester Supported Living team. To support people to have the very best life they can, doing the things they enjoy and to do so while living in their own home – things which we so often take for granted but which are not always so easy to achieve when a person experiences challenges or difficulties.
"Stephen's quality of life has improved immeasurably. He is happy and settled and most importantly, enjoying his life in his own home. The team who work with Stephen have gone above and beyond in helping make this possible both now, and for the future."

The team will find out if they are the winners in the The Housing With Care category at a special awards ceremony being held at the Midland Hotel, Manchester on October 26th 2019.
*name has been changed to protect confidentiality
Share this news