Honeybrook House Achieves Autism Accreditation – National Autistic Society
Congratulations to Honeybrook House on being awarded Autism Accreditation.
This outstanding achievement highlights the amazing work the staff team all do. This accreditation is the UK's only autism-specific quality assurance programme of support and development for services which support autistic people. It is a way for organisations to showcase the excellent support provided. The accreditation is an internationally recognised quality standard, and with 25 years of accreditation expertise, the National Autistic Society are the longest running programme in the world. Achieving accreditation demonstrates that Honeybrook House is committed to understanding autism and setting the standard for autism best practice.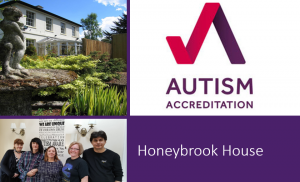 Share this news