Lakeside – Female Complex Care and Personality Disorder Services
Introduction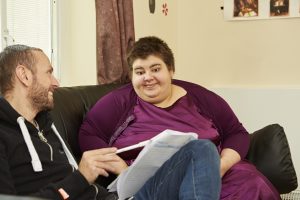 At Lakeside, we offer a clinical pathway for women across our complex care and personality disorder wards. Gifford is a dedicated and highly specialist Dialectical Behavioural Service, supporting women with Emotionally Unstable Personality Disorder (or its traits – a full diagnosis is not always required). The service helps women gain the skills they need to live successfully in the community.
Also as part of our EUPD pathway and clinical support network, Lakeside has two further wards which can support women, including those who may have a co-morbidity of learning disability or autism, using a modified DBT programme.
What can Gifford offer?
Our 12-month programme allows people the time to learn the skills and techniques they need, as well as practice them. This reduces the risk of return hospital admissions and increases the chance of success.
The team at Gifford works positively with women to gain the coping skills they need to help them live successfully in the community. This helps reduce the risk of harmful or unhelpful actions that can lead to placement breakdowns or repeated hospital admissions.
Our DBT programme is usually delivered over two six-month cycles. The second 6 months being offered is dependent on good progress having been made in the first 6 months. Additional treatment cycles can be added if required.
Who can we support with DBT?
Gifford offers a DBT programme for women with EUPD, or those with the diagnostic features even if they do not have a formal diagnosis when they are admitted.
To be supported at Gifford, the person can be sectioned under the Mental Health Act (1983) or we can also support people on an informal basis, as long as they are motivated and willing to sign up to and adhere to treatment.
Why choose Gifford?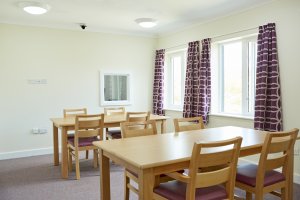 We are committed to outcomes – if people are not improving by the 6 month mark, their DBT programme will pause and they will be supported to move to Elstow 4, where they will be encouraged to re-engage with the programme. If that is not possible, the team will work with commissioners and the person to find an appropriate placement. It's important to note, in DBT, this is never the person's fault. It is either not the right time, not the right therapy or not the right therapist.
Our DBT programme is cost effective as there is a reduction in enhanced observations, a reduction in re-hospitalisation rates and A&E visits over the course of the 12 month programme.
The Gifford team involve the person's family in the programme, holding family sessions, which further reduces the risk of rehospitalisation.
DBT has evidenced a reduction in global symptoms, depression, anxiety, dissociative experiences, impulsiveness and deliberate self harm. Other treatments, such as substance misuse, can be offered alongside DBT to work on secondary treatment.
DBT Programme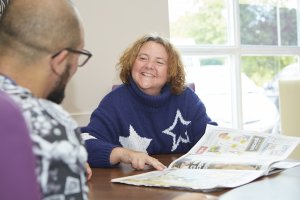 Generally, a programme of DBT lasts approximately 12 months and includes:
Individual 1:1 therapy
Trained skills coaches on Gifford 24/7
Group-based skills training
Therapy consultation groups
Elstow 4
Elstow 4 offers pre-admission placements for people before they are admitted to Gifford to begin their 12-month programme. This gives the opportunity to complete up to 6 weeks of pre-treatment before committing fully to 12 months of DBT.
The 12 months of treatment begins when they attend their first skills group session, which they can do while being supported within Elstow 4.
If people choose do drop out from DBT treatment, they can move back to Elstow 4, remain supported and are positively supported to re-engage with the programme.
Elstow 1
Elstow 1 offers a unique service which has the skills and abilities to support people who may be experiencing problems with a co-morbidity of Mental Health, moderate Learning Disability and Autism and or EUPD.
Elstow 1 supports up to seven women who require assessment and or treatment for mental health difficulties, moderate learning disability or autism, with or without EUPD, and can also offer a modified DBT programme for those who would struggle with the main DBT programme, but who would benefit from the key skills and training involved in the larger DBT programme.
What is DBT and who can it help?
Dialectical Behavioural Therapy (DBT) is a type of psychotherapy or talking therapy that uses a cognitive-behavioural approach. DBT is a stabilisation therapy and aims to help people change patterns of unhelpful behaviour including deliberate self-harm (DSH), suicidal thinking, aggression and substance abuse. DBT is recommend by NICE as an effective, and evidenced, treatment for EUPD. It is designed for working with people with complex needs and challenges, can treat comorbid problems such as substance abuse, eating disorders, trauma and PTSD and can treat the system as well as the person including family sessions.
Lakeside – Female Complex Care and Personality Disorder Services Brochure