Lakeside's Poetry Book – Keep Calm and Light Will Come
Lakeside's Poetry Book – Keep Calm and Light Will Come
Patients at Lakeside, our therapeutic in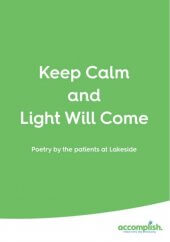 patient service in Wyboston, are pleased to present their latest poetry book Keep Calm and Light will Come.
By clicking HERE you can download your copy of the book.  Our patients have spent a great deal of time both individually and as a group to create this book.  They are extremely talented poets who express their ideas in their own unique way.
We hope that you enjoy reading this book as much as the patients enjoyed working together to create it.
Share this news