Mayor of Oldham officially opens new Supported Living service for people with Acquired Brain Injuries
Our new Supported Living service, designed to support people with Acquired Brain Injuries to live more independently within the local community, was officially opened by Cllr Javid Iqbal the Worshipful Mayor of Oldham on Friday 6th July.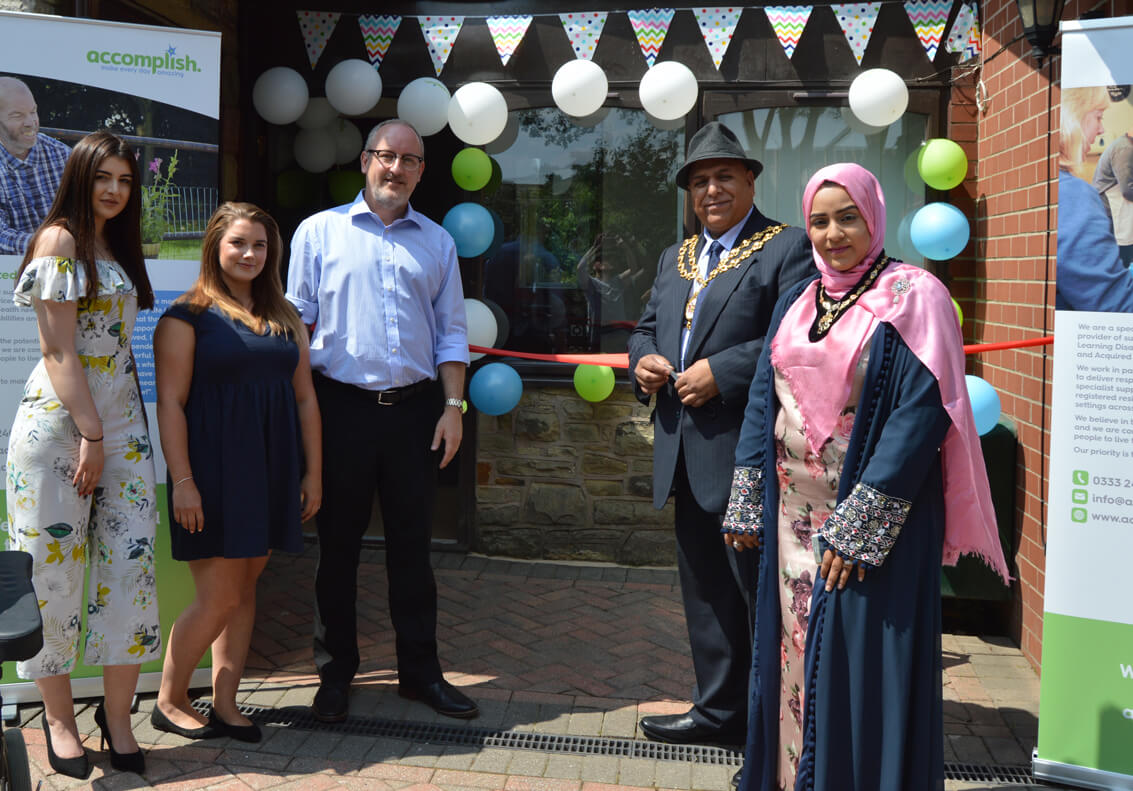 Acquired Brain Injuries are injuries caused to the brain after birth, usually as the result of an accident, stroke or tumour. As a result of the damage to the brain people often require rehabilitative support to re-learn everyday tasks and to live independently again.
Our Oldham Supported Living service, was designed in partnership with the local authority to provide a step-down solution for people in long stay residential settings to support individuals to reintegrate with their local community.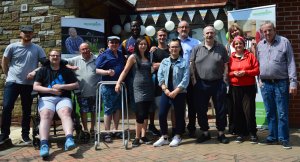 The Mayor joined members of the support staff team from Oldham Supported Living to welcome the first people to be supported by the service to their new home, and to officially open the service in a ribbon cutting ceremony. Four of the individuals moving into the new service are originally from Oldham. accomplish's new Oldham Supported Living service has enabled these individuals to return to their local community and provide a much-needed specialist resource in the area, now and for the future.
The Mayor was accompanied by his daughter Madame Mayoress Samir Iqbal and Amber Powell, who alongside being the Youth Mayor for Oldham, is also a staff member at the Oldham Supported Living Service.
Cllr Javid Iqbal, the Worshipful Mayor of Oldham said:
"I was impressed with the work carried out at Accomplish to create a safe and comfortable environment.  It was obvious to see how much this inspired the residents to make great improvements to enable them to recover from their injuries and to become independent once again".
A Parent of one of the people supported at Oldham Supported Living Service said:
"Since my son has been in the Oldham Supported Living service, it is like he has come alive again! No regimentation, no uniforms and it is like he has a brother and sister relationship with the staff".
Ryan Brummit, accomplish Supported Living Director (North) said:
"We are excited to be officially welcoming the first people to our new Supported Living Service in Oldham. The Oldham Supported Living service offers an option for people to be more independent in their local community. We aim to enable adults to live full and happy lives.
"It was a pleasure to have the Mayor of Oldham with us today to officially open the service. We look forward to getting to know the local community in and around Oldham and to encourage people we support to play an active role in the community."
Oldham Supported Living is part of accomplish – a specialist provider of support for people with Mental Health needs, Autism, Learning Disabilities and Acquired Brain Injuries.
Share this news