Paddocks
Our support
The Paddocks in Swansea supports adults with Mental Health needs. The staff team understand that recovery is a journey and through outcome focused approaches, they support people to achieve their goals. This Mental Health recovery residential service supports people to build on their strengths, skills and resilience.
The Paddocks staff team are committed to supporting people on their unique and personal journey towards recovery and independence. They understand each person's needs may vary. Whatever their situation and however complex their needs. They are committed to delivering successful outcomes for each person they support.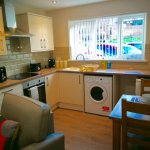 Accommodation
Our new studio apartment and flat at The Paddocks offers a clear progression pathway, within a residential support setting. The pathway offers an opportunity for self-development and maximum personal growth, regardless of complex health and social care needs.
People can trial independence in a setting which has 24-hour staffing available, to assist with the development of their life skills. They feel that the creation of a semi-independent transition studio apartment, enables people who want to live more independently, take those first steps to greater independence within a safe, risk managed environment.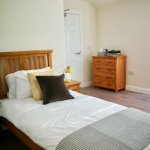 This new accommodation provides a private space for staff to enable skill development or coaching sessions. The apartment has it's own entrance, kitchen/diner, living area and wet room. The flat has a kitchen/diner, living area, separate bedroom, wet room and enclosed patio area. Both are wheelchair accessible throughout.
Download our mental health brochure
Download our mental health residential brochure
Summary and contact details
Support Type: Mental Health
Capacity: 5 Adults
Gender: Male
Location: Swansea
General enquiries: 01792 818 066
Email: info@accomplish-group.co.uk