Park Avenue
Our Support
Park Avenue is a place where people with Mental Health needs are believed in and encouraged through positive support, acceptance and a genuine desire to see everyone flourish. We have developed our support as a direct response to the needs being presented, and we have become broad in our delivery because we have the one, very special thing that is needed to see a sustained engagement – trust. We understand that everyone is an individual and their needs may vary, but whatever the persons situation or however complex their needs are we will encourage, support and motivate them on their unique journey towards independence.
Our Approach
At Park Avenue we believe that people are unique, with individual experiences and challenges. We therefore have an approach to supporting people which is bespoke to each person. We understand that there should be no barriers between a person and their potential. We seek to help people become 'the best version of themselves'. We do this through a person-centred approach that equips and enables individuals to develop their own set of resources to self-manage and stay well.

We focus on:
Recovery and resilience
Offering a step-down programme as an alternative to hospital stays
Positive risk-taking
Using creative and flexible approaches to engagement
Relapse prevention
Fostering confidence and self-esteem
Enhancing quality of life
Recovery Star Model
We use the Recovery Star Model, an outcomes-based measurement tool recognised by the Department of Health. By using the Recovery Star, we are able to support a person's recovery by measuring progress in areas including managing their Mental Health, enhancing living skills, building and maintaining social networks and building self-esteem to maximise independence.

Positive Outcomes
We understand that recovery is a journey and through our outcome focussed approaches, we support people to achieve their goals and aspirations. Our approach offers people access to college, travel training and leisure activities. We work alongside individuals to help them build their future and increase personal empowerment. We support everyone to have access training, volunteering, education and where possible employment opportunities. We are committed to enabling people to move on and step down to more independent models of support.
Mental Health Relapse Prevention Plan
Each individual will have a Mental Health relapse prevention plan, which details early warning signs of relapse, following the traffic light system. Green showing everyday behaviours, Amber showing some sign of relapse and Red showing some concern of relapse. The plans have early warning signs and triggers, which are set with the individual and their Mental Health team. Using this process, staff get to know warning signs and early intervention can be implemented at the earliest opportunity.
Accommodation
Park Avenue has four en-suite bedrooms within the main house, with spacious communal areas, made up of a lounge, dining room, kitchen and communal bathroom. To the rear of the property there is a garden with a summer house, which has been converted into a fitness room. Separate to the main building is a new self-contained one bedroom apartment, with it's own access, kitchen, lounge area and bedroom with en-suite facilities.
Progression Pathway – Our Studio Apartment
Our studio apartment offers a clear progression pathway, within a residential support setting. The pathway offers an opportunity for self-development and maximum personal growth, regardless of complex health and social care needs. The apartment provides a private space for staff to enable skill development or coaching sessions. People can trial independence in a setting which has 24 hour staffing available, to assist with development of their life skills. We feel that the creation of our semi-independent transition studio apartment, enables people who want to live more independently, take those first steps to greater independence within a safe, risk managed environment.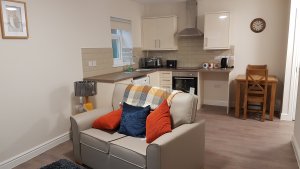 Download our mental health brochure
Download our mental health residential brochure
Download the Park Avenue flyer
Summary and contact details
Support Type: Learning Disabilities, Mental Health
Capacity: 5 Adults
Gender: Males Only
Location: Neath
General enquiries: 01792 815 495
Email: info@accomplish-group.co.uk