Senior Manager Award Winner
Kelly Pirotte Head of Learning and Development wins the Wales National Learning Disabilities & Autism Award Senior Manager Award
Friday 28th September 2018, saw the very best from the learning disabilities and autism sector in Wales attend an evening of celebration at The Marriott Hotel, Cardiff for The inaugural Welsh Learning Disabilities & Autism Awards. Hosted by Care Talk Magazine, the awards are now in their fourth year but this is the first year they have expanded to include a bespoke event in Wales.
Before the ceremony we saw our inspirational Choir open the awards with a fantastic rendition of "This is Me" from the greatest showman. The Choir was made up of staff members and people we support, who on their opening debut were truly outstanding. The ceremony followed with our very own Kelly Pirotte winning the National Learning Disabilities & Autism Award in the Senior Manager category, demonstrating her outstanding commitment she has shown to training and workforce development.
Judge's comments:- "Kelly understands that people are the most important asset to her organisation. She shares a real passion and empathy, providing quality services"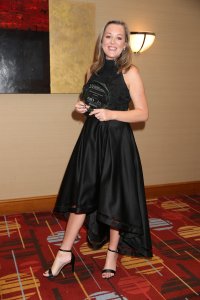 The Learning Disabilities & Autism Awards offer a unique opportunity to celebrate the successes of individuals, teams and businesses in the sector – people and organisations who really do make a positive impact on people's lives. They aim to pay tribute to people who specifically support those with learning disabilities and autism and also recognise inspirational individuals with a learning disability and/or autism who make a real difference within their communities.

Share this news