Taith Cartref
Our Support
Taith Cartref is a 24-hour Nurse Led Assessment and Therapeutic Nursing support service for adults with complex Mental Health needs. We are committed to providing professional support, based on respect and a clear understanding of Mental Health and the way it can impact on a person's life. We recognise that everyone is different, so we adapt our support to suit each person's needs. Taith Cartref offers the right environment to enable mental and physical well-being. We support people to maintain their identity whilst we work to assist them to regain their self-confidence and start to manage their own Mental Health and relapse. With the right support we feel this environment will help individuals to gain greater independence and more control over their own lives.
Our Approach
Individuals with Mental Health needs, sometimes find the emotional demands this creates, can make day-to-day life difficult. Experience has taught us that if we provide support based on sound knowledge of their Mental Health needs, alongside a positive attitude committed to recovery, then this will increase their feeling of safety and self-confidence and provide hope for their future.
Taith Cartref Recovery Pathway
We understand that recovery is a journey and through our outcome focussed approaches, we support people to achieve their goals and aspirations. We follow the Recovery Model whilst using tools such as the Recovery Star. Taith Cartref supports the individual's journey through the recovery pathway which comprises of a step-up flat, a residential service and independent living accommodation within our studio apartments.
Step Up Flats
The step-up flats are designed to support individuals with complex Mental Health needs, who need intensive staff support when in crisis. The flats provide an excellent environment to facilitate assessment following admission or during behaviour escalation or Mental Health deterioration.
Main House
Within the main house are nine en-suite bedrooms. There is a large shared kitchen, dining room, lounge and mindfulness area. In the garden there is a patio with a summer house to relax in. We encourage and motivate each person to feel good about themselves. Staff support people to gain confidence and do the things that are important to them. Each person discusses their likes, interests, goals and aspirations with their Key Worker. These could include starting a college course, having a job, wanting to cook or just having the confidence to go to the shops.
Studio Apartments – Progr
ession Pathway
Our studio apartments offer a clear progression pathway, within a residential support setting. The pathway offers an opportunity for self-development and maximum personal growth, regardless of complex health and social care needs. The apartments provide a private space for staff to enable skill development or coaching sessions. People can trial independence in a setting which has 24 hour staffing available, to assist with development of their life skills. The creation of our semi-independent transition studio apartments, enables people who want to live more independently and take those first steps to greater independence within a safe, risk managed environment.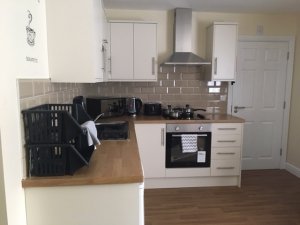 Download our mental health brochure
Download our mental health residential brochure
Download the Taith Cartref brochure
Summary and contact details
Support Type: Mental Health
Capacity: 10 Adults 
Gender: Mixed Gender 
Location: Swansea
General enquires: 01792 849 259
Email: info@accomplish-group.co.uk