Wales Care Awards 2019 Finalists Announced
We are proud to announce we have two finalists at this year's Wales Care Awards. This is a fantastic achievement and testament to the hard work of Sarah Jones and Corey Edwards. We wish them both the best of luck and hope to be toasting a double success.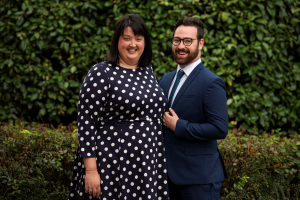 The Wales Care Awards are a celebration of excellence across the Wales care sector. The purpose of the awards is to congratulate those  individuals who have demonstrated outstanding excellence within their field.
Sarah Jones, a Learning and Support Officer for accomplish, has been shortlisted in the Wales Care Awards' Commitment to Training and Workforce Development Award. Her colleague Corey Edwards, the company's Regional Healthcare Trainer, is a finalist in the Exceptional Newcomer award.
Part of the Regional Training Team in Wales, Sarah and Corey helped establish and run the Accomplish Choir which brings together the talents of 30 people who use the organisation's residential and supported living services and staff who support them.
The choir has seen fantastic success since its formation and has performed twice at the National Disabilities and Autism Awards in Cardiff, even opening last year's event with a performance which earned a standing ovation from the crowd.
This year sees the 16th anniversary of the Walsh Care Awards. Sarah and Corey, along with their fellow nominees, will find out who has been successful at a glittering presentation ceremony to be held at City Hall in Cardiff on Friday October 18, hosted by tenor and radio presenter Wynne Evans, better known as Gio Compario from the Go Compare TV ads.
The awards are held in association with Care Forum Wales.

Sarah said: "It's been proven that singing is very therapeutic, especially for some of the people we support, and is also good on a social level in that getting together as a group enables people to make friends, meet and greet each other and have a chat.
"It was a great honour for the choir to be asked to open the Learning Disabilities and Autism Awards. We've now got other gigs in the pipeline and it's going from strength to strength."
Corey added: "I was absolutely blown away with the nomination. I didn't expect it at all and I'm absolutely ecstatic. I consider myself really lucky and it's a true honour."
Kelly Pirotte Head of Learning and Development at accomplish said: "We are absolutely thrilled that not one, but two, of our fantastic team have been honoured in this way and that their hard work and commitment to the people who use our services, and those who support them, has been recognised.
"We've got our fingers crossed for a double celebration this weekend – we'll certainly be singing Sarah and Corey's praises for a long time to come!"
Share this news