Westhope Mews
Westhope Mews provides residential care and supported living accommodation for 21 adults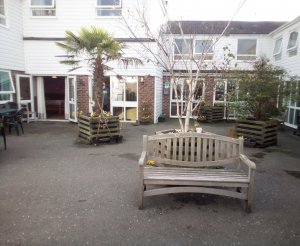 with Learning Disabilities. The service is in a quiet location in Denne Parade, Horsham. It is within walking distance from The Carfax and the local shops as well as Horsham Park with its cinema, swimming pool, bowling centre, library and other public amenities.
Our Approach 
Westhope focuses on person-centred planning for the people we support to ensure they receive the appropriate support. We provide an atmosphere that will improve the quality of their lives and helping them to fulfill their potential. Person-centred planning is regularly monitored to include any changes that can enhance their health and enjoyment. A dedicated Activities Co-ordinator will design a programme of activities to suit each individual according to their own wishes and as described in their person-centred plan.
Residential Support
On the ground floor there is a residential accommodation for 8 people with learning and physical difficulties. The bedrooms are large in size and all have an en-suite wet room. The main bathroom offers a high/low spa bath and is available for the people we support to use when they wish.
There are ample communal areas including kitchen, dining room, lounge, activity room and also an additional training kitchen to enable service users to practice the essential everyday skills of preparing meals.
Supported Living
Upstairs we have supported living accommodation for people ready to move onto more independent living. Our supported living accommodation is split across to homes and we can provide support for up to 13 people. Each supported living tenant receives the requisite support to operate and enjoy a high level of independence in the full knowledge that support is on hand 24/7.
Download our learning disabilities brochure
Summary and contact details
Support Type: Learning Disabilities
Capacity: 21 Adults
Gender: Mixed Gender
Location: Horsham
General enquiries: 01403 750736
Email: info@accomplish-group.co.uk