Westhope Place
Westhope Place is a purpose built home for people with Learning Disabilities, which is situated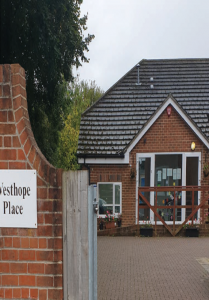 close to Horsham town centre in a quiet residential area.  The ground floor is a Registered Care Home with 7 en-suite rooms, excellent communal rooms and a separate bathroom fitted with hydraulic bath and hoist. There is a large garden area to the rear of the home offering the people we support a quiet and peaceful space to enjoy.
The first floor has 6 en-suite rooms for adults with high support needs in a Supported Living Programme.  In addition, there are 4 purpose built flats/bungalows on the site occupied by adults in Independent Living. Each tenant receives the requisite support to operate and enjoy a high level of independence in the full knowledge that Support is on hand 24/7.
Outcomes Focused
Westhope Place focuses on person-centred planning to ensure the people we support receive the appropriate support. We provide an atmosphere that will improve the quality of their lives and helping them to fulfill their potential. Person-centred planning is regularly monitored to include any changes that can enhance their health and enjoyment.
Our services are able to offer:
Professional and friendly atmosphere in the home
Provide a person-centred approach is offered to individuals to conduct care review meetings with full involvement in identifying what is working and what is important to them both now and in the future.
Develop a relationship based on respect, positive engagement, resource investigation and advocacy.
Develop daily living skills, and maintain any hobbies individuals have prior to their placement.
Summary and contact details
Support Type: Learning Disabilities
Capacity: 17 Adults
Gender: Mixed
Location: Horsham
General enquiries: 01403 756776
Email: info@accomplish-group.co.uk