Winners for the England Learning Disabilities and Autism Awards Announced
Friday 28th June 2019 saw the very best from the Learning Disabilities and Autism sector, attend an evening of celebration at the ICC Birmingham.
The awards are now in their fifth year and offer a unique opportunity to celebrate the outstanding work individuals, teams and businesses do in the sector. The aim of the awards is to pay tribute to people who specifically support those with Learning Disabilities and Autism and also recognise inspirational individuals with a Learning Disability and/or Autism who make a real difference within their communities.
We are delighted to announce our amazing achievement of winning two awards at this year's ceremony. Our very own Sally Harvey won the "Trainer Award" for her life changing Travel Training, and the award of the night went to Sue Hatton, for her outstanding work with autistic adults, winning the "Lifetime Achievement Award". Sue has worked tirelessly for over 40 years to empower others and help change the lives of all those she supports.
We would like to congratulate our award winners and our runners-up David Quinton Project Manager Cornwall Supported Living and Keighley Lavelle Team Leader, Merseyside Supported Living on for their outstanding achievements.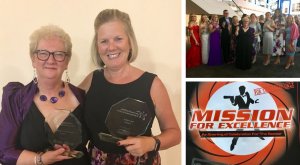 We are proud to share with you the comments we received from the judges:
The Trainer Award
Sally Harvey, Accomplish Group
Sally is an experienced trainer who has worked at all levels permitting her to draw upon valuable examples and experience to strengthen her training. Sally brings a different approach which brings a mixture of techniques supporting independence in all aspects of a person's life. Very inspirational Sally!
The Lifetime Achievement Award
Sue Hatton, Accomplish Group
In the words of the team that nominated Sue:
"Sue is a lecturer, mentor, supervisor, author and Autism Advisor with over 35 years' experience within the field of Autism and through publication, presentation, teaching and one-to-one support to countless individuals, has changed care professionals and the public's understanding of Autism. She is currently working alongside staff to support over 200 autistic adults within residential and supported living settings. Annually Sue also visits Ghana in West Africa to help care givers in a community, understand autism. She offers staff training and spends time with autistic individuals. This summer will be her seventh visit. Sue has co-authored the first of four of her books with an autistic individual. One of her books "Choice and control the autism friendly way", is a passionate book with a simple yet profound message on how autistic people voices need to be heard.
She has been instrumental in developing and implementing our Autism Strategy and best practice internal kitemark scheme. The aim is for staff to move from becoming autism aware, to working in an autism friendly way and eventually becoming what she calls "autism intelligent." She is always looking at ways to promote Autism awareness, she hosts events to help educate and inform others. She actively has contributed to resource days, conferences and internal best practice days. These events are informative and innovative, the information and knowledge care professionals receive is invaluable and will continue to benefit others.
Sue is exceptional, inspiring staff to become Autism Champions with reinforced learning. She supports staff in dealing with difficult and sometimes very challenging situations. Her passion and drive are clear to all, she wants everyone to understand the importance of supporting people with Autism in a respectful, Autism friendly and intelligent way. She strives to continue to make a difference to the lives of everyone she supports."
Please click here to view the full list of winner's
Share this news